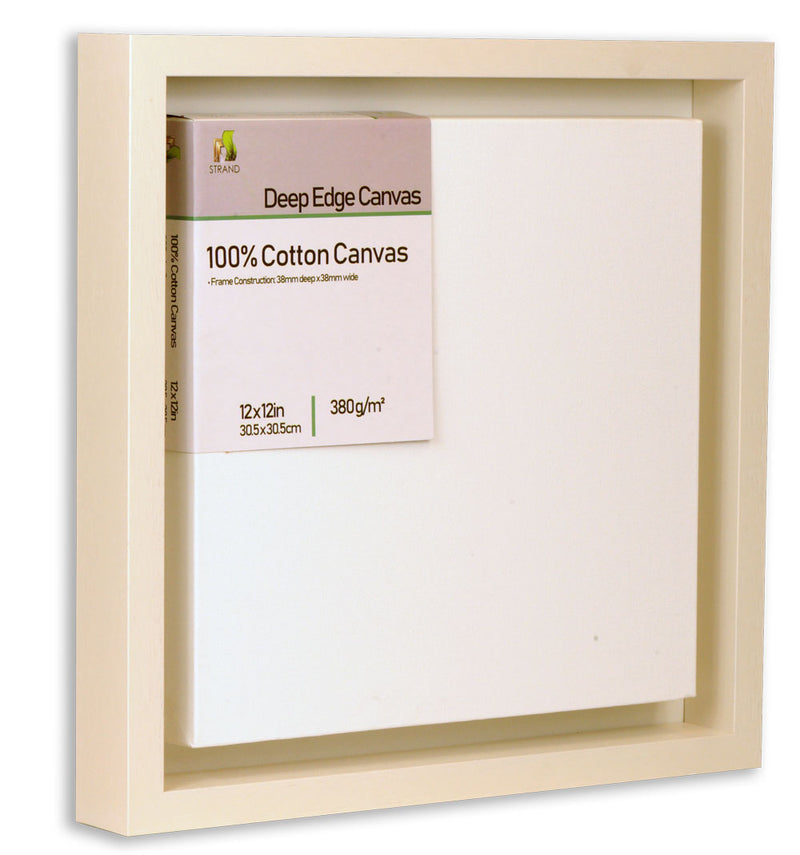 Overview
Our brand new 2044 Canvas Floater Tray Frame Range. For medium sized stretcher  Canvas panels. This is a tray style floater frame supplied in a number of customizable finishes. This frame is suitable for framing the following: Canvas panels, ceramic pieces, three dimensional objects that need to be mounted with/without/on glass. We will offer 20 standard sizes ( please not all frames are custom made to order) with the option to also purchase custom sizes using our custom picture frame tool
Standard Sizes
The standard sizes we offer will be focused on standard canvas panel sizes. Measurements for these profiles will be calculated from the inner edge of the frame and this will be referred to as "To Fit Canvas Size". For the frame size we will take the standard panel and will allow a 20mm gap all around. That will mean the inside opening of the frame will be slightly bigger then the canvas panel which will highlight the cotton white backing board which will frame the canvas perfectly.
2044 Canvas Floater Frame Profile Information
Backing/ Mounting Options
Background Area is the area that the artwork will be glued/screwed to or  fixed to use picture framing hanging strips.
Standard default finish will inlcude the mountboard being glued to the MDF for a great finish.
Film Coated Cotton White Backing Board - mount your canvas or artwork straight to the Cotton White backing board. The film acts as a protective barrier and allows backing board to be wiped.
Glass Option - Frame with glass and cotton white board. Artwork fixed to glass with cotton white backing board as a mounting background. 
Hanging Options
1 or 2 Large hangers as standard. Hanging Pack ( D-Rings, Chord + Screws) available upon request @ €2.00 per back. Discounts will apply for quantity. Crimped Wire and Height adjusters also offered.
Assembly Instructions
Once you have received your frame, remove all packaging. There are a number of different ways to assemble your product based on you requirements. 
Requirements

 

  Instructions - please view our accompanying resource videos for exact instructions for each method
 Frame Canvas Panel 

 1. Picture Haning Strips Method - Purchase Picture Hanging Strips with your frames and easily install. Picture Hanging strips are removeable so you can change the image easily at any time

2. Screw Method - Use a screwdriver or drill to firmly fix canvas in place from the back using screws. This is also a removeabler method.

Frame 3D artwork
Industrial Sealant is the ideal material used for fixing 3D artwork such as ceramic/stonework/metalwork pieces to either the glass face of our tray frames or the backing board with protective film. Tex 7 is an industrial adhesive which has been used by many of our customers to fix ceramic pieces to the glass face in our range of tray frames